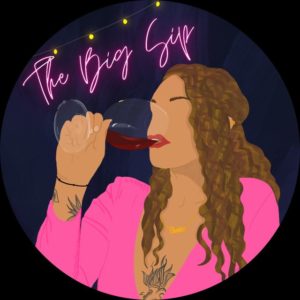 "The Big Sip" series spills knowledge on "sip" that matters, by highlighting and amplifying black and brown trailblazers breaking barriers in the food, wine, and arts industry. Each show provides listeners with an opportunity to learn about diverse leaders pioneering a more equitable and inclusive world by centering a wine-full and mindful conversation. (follow the series @thebigsipseries)
Host: Gabriela Fernandez
Show: Live every Thursdays at 10am PST or catch up on the podcasts below
---
THE BIG SIP MOST RECENT EPISODES
---
About Gabriela Fernandez:
Gabriela Fernandez is a true peppy, free-spirited soul blessed with the "gift of gab!" Growing up in the Napa Valley, her teachers always told her that her mother named her right because of her very gregarious nature. Her bubbly, charismatic personality only grew with age and helped launch her into the exclusive Jazz Choir at the City of Saint Helena. Through jazz, she was able to begin traveling the world, visiting countries like Spain and France. This is where Gabriela developed her passion for travel, culture, and food.
Gabriela graduated from Saint Mary's College of California where she graduated with a Business Marketing degree. While at Saint Mary's she immediately became involved in various outlets at the college, partaking in community events and service projects. Now working and living in Napa, Gabriela continues to be very involved.
Gabriela absolutely loves concerts, the arts, food, music, movies, discovering new hiking trails, and all things "sports." Her adventurous spirit keeps her movin' and groovin' and searching for the next thing to dive into and explore.
Currently you can listen to her on "The Big Sip" series on KVON and other podcast platforms, as well as on the weekdays as KVYN's 99.3 FM The Vine's Morning show host delivering music, entertainment, and all things trending. When she is not live on the mic, she works for a prominent winery in the Napa Valley and is creator/lead of The Peoples Collective for Change. #gettingSIPdone