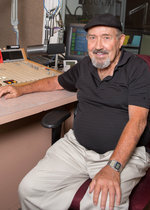 Ira was born and raised in Indiana. He was drafted into the Army where he was assigned as Broadcast Specialist and through the Army, appeared on the Ted Mack Ameteur Hour doing a comedy pantomime.
After leaving the military , Ira started his civilian career in radio management and sportscasting. Along the way Ira worked at WHLT in Columbia City, Indiana (4 years), WMRI AM and FM in Marion, Indiana (2 years), WVMO in Monroe, Michigan where he also broadcast University of Michigan football (for 6 years)..
Since 1976 ( in 39th year and counting!) Ira C. Smith has been the Voice of Napa Valley Sports for KVON and KVYN, covering many local sports.
Ira has served as past President of the Kiwanis Club fo Napa and past President of the Napa Valley Tennis Association. He received the Napa Chamber of Commerce "Volunteer of the Year" award, He is an Ambassador for the Napa Chamber of Commerce and was P.A. announcer for the Sacramento Kings from 2000 to 2008.
Email Ira at ira@kvon.com.
Ira was recently on Doris Gentry's Napa Valley TV show. Click here to watch!