New Weekly Resource for Seniors
Join us for Senior Moments every Wednesday at 7:30A and 12P as KVON's Wine Country Live Host, Barry Martin, talks to experts about issues that are most important to the Older Adult population in Napa County.
Check back here to listen to the latest Senior Moments podcast. If you would like to make any suggestions for future topics, please email napaseniormoments@gmail.com with your feedback. You can also follow our Facebook page: @NapaSeniorMoments
This is a project of Leadership Napa Valley brought to you by: Queen of the Valley Medical Center, Queen of the Valley Community Benefit and Community Action Napa Valley (CANV).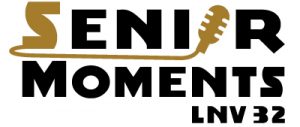 ---
June 5, 2019
Ian Stanley, LGBTQ Connection, Program Director, and Major Woolard, LGBT Senior Discussions Group co-facilitator, will address their work with LGBT seniors and their experiences.
…Future Broadcast…
---
May 29, 2019
Mike Smith, Physical Therapist, Queen of the Valley Medical Center, discussed how to prevent falls.
---
May 22, 2019
Kristin Brown, Napa County Comprehensive Services for Older Adults, gave an overview of the Senior services Napa County offers.
---
May 15, 2019
Gerardo Martin, Napa County Hispanic Chamber, discussed the financial impacts issues that affect the Senior  population.
---
May 8, 2019
Senator Bill Dodd will talk about senior legislation.
---
May 1, 2019
Robert Plummer, Napa Police Chief, talked about senior home safety and security.
---
April 24, 2019
Susan Gonzalez, MD, President of St. Joseph Health Medical Group, addressed senior sexuality.
---
April 17, 2019
Rob Weiss, Executive Director, Mentis touched on Alzheimer's and dementia.
---
April 10, 2019
Doug Wilson, DO, talked about palliative and hospice care.
---
April 3, 2019
Allison Hailey, District Attorney, Napa County discussed issues her team is seeing with the Senior Community in Napa County.
---
March 27, 2019
Jim Diel, Acting Mental Health Director, Napa County, addressed the County's efforts to help the Senior population.
---
March 20, 2019
Shirley King, Community Action of Napa Valley Food Bank Program Director, talked about the collection and distribution their program offers our community in addition to some facts about Older Adults in Napa County.
---
March 13, 2019
Aura Silva and Salvador Nunez told us about CARE Network and how they provide complex case management and transitional care from hospital to home and brief care services to vulnerable populations in Napa County.
---
March 6, 2019
Heather Stanton, Chair, Napa County Commission, kicks off the Senior Moments segment providing an overview of Napa County Seniors.
---